If you have questions on MEAN WELL's products, please read the FAQ first. If the listed answers still cannot solve your problems, please contract our local distributors , they should reply to you as soon as received your request.

As a dedicated manufacturer of standard power supplies, MEAN WELL provides a wide variety of power supplies to meet different demands from the markets. However, selecting the right products relies heavily on the correct electrical characteristics and specification, we listed the frequently asked questions for your reference.

Application Aspect
Q1
Is it possible to connect two KNX-20E-640 in parallel?
Ans
Yes it is possible to connect two KNX-20E-640 in parallel with following conditions:

Two chokes installed in one line with at least 200m is the minimum requirement for certification according to KNX standard 9.2.



Q2
Where can users download MEAN WELL KNX product installation manual or product manual?
Ans
To the web homepage of MEAN WELL KNX product you use, you can find the installation manual or product manual at "other" sub-page and download it.



Q3
Is it possible to connect several shutters/blinds to one output channel of an actuator?
Ans
It needs to be evaluated based on the wattage of the motor.
Users can get the Max. load information of different types of loads per channel in the KAA-8R product specifications. (As shown in the figure below)
The wattage of connecting multiple motors cannot exceed the recommended value in the specification.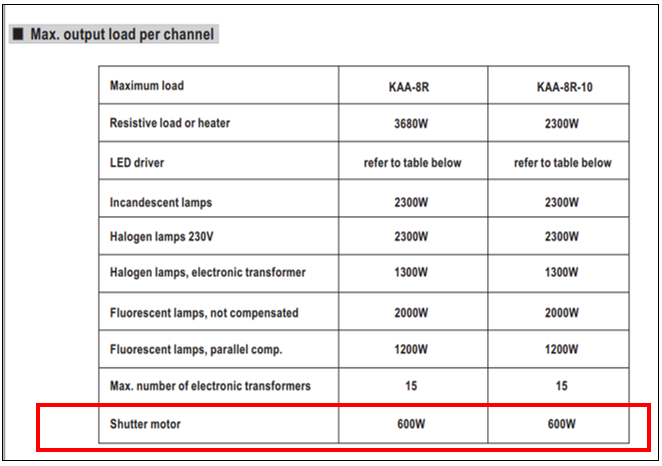 Q4
Do all KNX IP secure devices in a network need to be from the same manufacturer?
Ans
No, they are KNX certified and all devices can be combined in an installation, as long as they are secure.

Q5
Can I connect different electrical phases to the KAA-8R actuator outputs?
Ans
Yes, different electrical phases can be connected to the outputs as long as they are connected to the different terminal blocks.
Q6
What are the devices that can be controlled by the KAA-8R actuators?
Ans
Any electronic device needing the opening/closing of a relay for its control, i.e: lighting switch, shutters, heater, ventilation
Q7
How long can I extend DC cable of the KNX LED driver?
Ans
Owing to line (voltage)-drop, we suggest the extension made from AC cable. In case of DC cable extension is necessary, please consider Line-Drop leading to insufficient Vf so that the LED model or lamp may fail to switch ON. Moreover, EMC performance and characteristics may also be affected by DC cable extension.
Q8
Can different voltages be switched via an actuator?
Ans
Switching actuators are designed to switch 230V lines. For example, if 24V is to be switched, separate actuators must be used. Mixed operation in an actuator with 230V and 24V is not permitted. The isolation distances of the individual channels are not suitable for SELV isolation.
Q9
What is the difference between KNX-IP Router and KNX-IP Interface?
Ans
Both devices can be used as an interface for programming and monitoring the KNX bus from the IP /LAN network and support multiple simultaneous connections.

The difference is that KNX-IP Router can be used as a line coupler or area coupler with an IP-based backbone or mainline. In addition, It is with an additional multicast connection can be used as a bus interface for programming and external devices.

Generally speaking, sometimes there are several systems in a building. In order to ensure the compatibility of control between the systems, we would recommend KNX IP router.