Product Series
※NEW PRODUCT
Solution> KNX Power Supply-
KNX-20E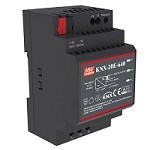 Wattage :

20W
Description :

KNX-20E is able to drive the standard KNX bus system, and the devices on KNX bus are able to be connected by the KNX twisted pairs, that it is very suitable for the monitor and control, within buildings, for lighting, blinds / shutters, security systems, energy management, heating, ventilation and air-conditioning systems, signaling and monitoring systems, surface interfaces and building control systems, remote control, metering, audio / video control, white goods, etc. The aforementioned facilities and systems can interchange and cope with the information; all of the intelligent applications in home or the buildings can thus be controlled through merely an integrated uniform control interface system.
Model
Power:
Safety Certificates:



KNX-40E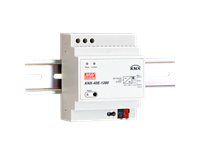 Wattage :

40W
Description :

The KNX Power Supply KNX-40E-1280 is a 1280 mA power supply with high efficiency and a small footprint of only 4SU (72 mm). The device has a KNX bus choke output and additional output for auxiliary power. The -30~+70°C wide temperature operating range can meet all kinds of applications. LED indicators are used in case of normal operation, overload conditions and RESET operation. It is perfectly suitable to power up any products labeled with the KNX trademark.



Model
Safety Certificates:

Solution> Power Supply-
HDR Series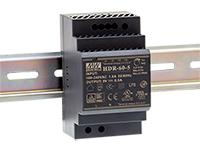 Wattage :

15W~150W
Description :

The ultra-slim step shape type, HDR series, is a compact and high efficient power supply. It is suitable to be installed in Building and Home distribution boxes to provide power for all kinds of applications, such as building safety, surveillance, video, audio etc. MEAN WELL launched 15W/30W/60W/100W/150W series and provides complete voltage models. The system integrator can select the appropriate specification power supply according to application requirements, and further use them with MEAN WELL KNX products to achieve smart building.
Solution> KNX LED Driver-
LCM-KN Series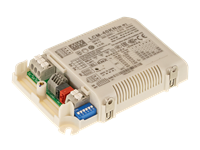 Wattage :

25W~60W
Description :

Constant Current mode output with multiple levels selectable by dip switch

KNX/EIB protocol

Flicker free design

Support emergency lighting(EL)

Integrated constant light output

Integrated KNX push button interface

Synchronization up to 10units

Functions: Manual dim, operation hours, power consumption feedback, log/linear curve selection and others

3 years warranty
PWM-KN Series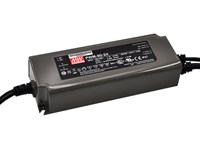 Wattage :

60W~200W
Description :

Constant Voltage PWM style output with user changeable frequency up to 4KHz compliant IEEE 1789-2015 no risk

Built-in active PFC function

Standby power consumption<0.5W

Integrated KNX control protocol

No need KNX-DALI gateway
Model
:

PWM-60-KN / PWM-120-KN /
Safety Certificates:





Solution> Actuator-
KAA-8R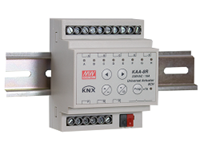 Wattage :

NA
Description :

The KAA-8R Universal Actuator is suitable for different load situations and possible for many application areas up to 8 independent channels. It receives KNX telegrams and can be used as switch actuator or shutter actuator (planned). Mixed applications from switch and shutter actuator are always possible. Each output uses a bistable (latching) relay and can be operated manually via a push button. Other functions including heating control and logic functions are integrated to provide the KNX system integrators with high design freedom. As result, KAA-8R is featuring both reliability and multi functionality to meet various needs in a modern building.



KAA-4R4V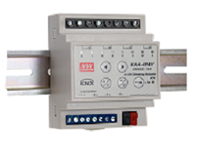 Wattage :

NA
Description :

The KAA-4R4V dimming actuator is a 4 channels device with high-quality independent latching relay to turn on or off, which is suitable for MEANWELL all kinds of LED drivers. The KAA-4R4V dimming actuator is independently configured with a green LED indicator on each channel to indicate the status of the switch. In addition to the basic switch function, a DC 0(1)-10V signal to perform the dimming on the connected driver at each channel is also another key feature. The dimming curve can be adjusted to linear or logarithmic mode so that the end user has excellent dimming experience.



Solution> Gateway-
DLC-02-KN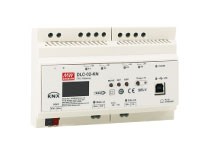 Wattage :

8W
Description :

Comply with IEC 62386 DALI-2, and Part 101/103/207/208/301/302/303/304

2 x channels of DALI bus, for control gear and control device using

4 x programmable relays, for electrical switch or curtains control

DLC software for system settings or remotely through internet

Built-in LCD display and control buttons to set and view settings

Built-in timer IC, commission schedule

Communication interface: RJ-45 and KNX, for connection expansion with other building automation systems

DIN-Rail mounting, compact design 8SU width (144x 90x 58.4mm)
Solution> USB Interface-
KSI-01U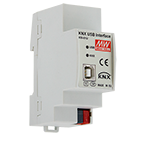 Wattage :

NA
Description :

KSI-01U is an interface for establishing a bidirectional connection between a PC and the KNX installation bus. The USB connector has a galvanic separation from the KNX bus. It can be used on the standard software like ETS, EITT (also Raw Frame operating mode) and other software is handled by the FALCON driver. The KSI-01U supports long messages (up to 220 byte APDU length) and ensures easy handling in software under operating systems not supported by the FALCON driver (e.g. Linux), providing an easy communication interface for systems or devices that use KNX building automation control technology.
Solution> IP Router-
KSR-01IP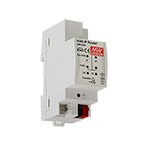 Wattage :

NA
Description :

The IP TP media coupler KSR-01IP is a KNX net/IP routing & tunneling device and works as KNX IP line/area coupler. No need to have an external power supply for powering. The ability to address all bus devices in the KNX bus system makes network operations less time-consuming. Operational and filtering states, malfunction and faulty communication are indicated by LEDs. The device supports UPnP and its firmware can be updated via the built-in web front-end page provided an easy IP communication interface for systems or devices that use KNX building automation control technology.
Model
:
Safety Certificates:

Solution> Line Coupler -
KSC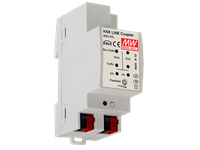 Wattage :

NA
Description :

The KNX TP Media Coupler KSC series works as a KNX line/area coupler to provide a bi-directional data connection between two KNX TP lines/areas. Using the TP coupler application, KSC series can be used as a KNX TP line coupler to connect several KNX TP lines but also as a KNX TP area coupler to connect several TP areas or different KNX TP installation systems via a TP Backbone. Using the TP Repeater application, KSC series is able to extend a KNX TP line providing unfiltered data transfer and galvanic isolation between segments. Up to four-line segments can form a single KNX TP line by connecting three KSC-Series line repeaters.
Model
:
Safety Certificates: